Morellino di Scansano
Controlled and Guaranteed Denomination of Origin
Made from Sangiovese grapes, this is a well-structured wine quite rich in tannins, lovely dark ruby red and with an intense aroma of red and black berries, which evolves into spicy and flowery fragrances of pansy and Parma violet with ageing. Stunningly fresh-tasting, with fine-grained tannins and richness of flavour. The perfect wine-pairing for the Morellino di Scansano is red meat in general, wild boar, grilled meat, hard cheeses.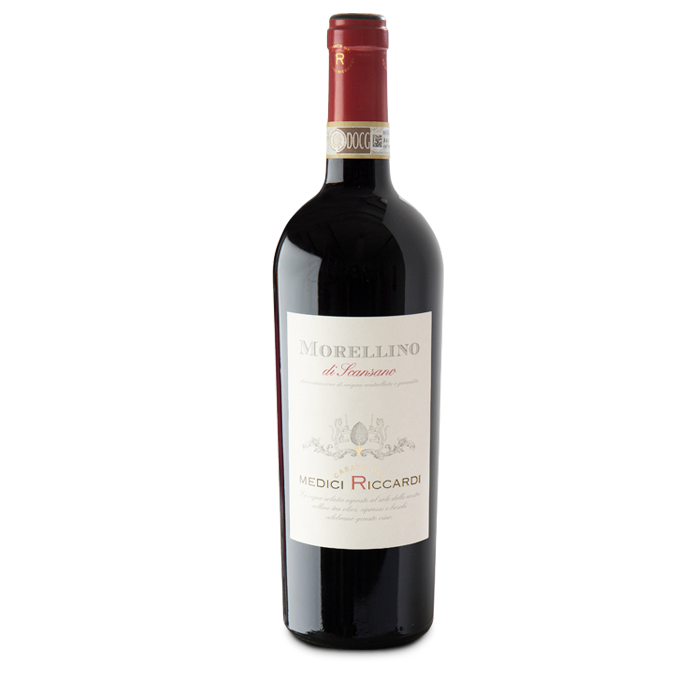 A Tuscan wine which looks seaward
territory and history
The production area of the Morellino di Scansano CDO is located on a total surface area of approximately 58,500 acres, located in the municipalities of Scansano, Magliano in Toscana, Campagnatico, Manciano, Grosseto, Semproniano and Roccalbegna. The environment, which is predominantly hilly in nature, is located between the basins of the rivers Ombrone and Albegna, going from an altitude of approximately 500 m to a few meters above sea level, near Grosseto and in the area of Collecchio. Hilly plots, mainly composed of arenaceous and chalky-marly substratum, clayey shale and sand with pebbles or marl stones (known as skeleton in technical jargon). The Morellino is one of the most well-known Tuscan red wines and perfectly combines the advantages of the hills where it is grown with the aromas that come from the sea. This production area was already known to the ancient Etruscans and its name derives from the name of the Sangiovese, later changed to Morellino, in honor of the morelli horses bred in the area. Until the end of the twentieth century, Morellino di Scansano was nearly always a rustic wine produced with methods which could not counter the effects of the area's hot climate. However, in the years between the second and third millennium this wine and this area are suddenly return to centerstage. Thanks a small team of winegrowers who, ever since the early '80s, had ernestly worked to develop an original maremma-style interpretation of the Sangiovese, capitalizing on the structured tannins which its wines acquire here, as well as their pleasantness.